Pakistan v England: third men's T20 cricket international – live
September 23, 2022
12th over: Pakistan 91-5 (Shan 33, Nawaz 0) A first wicket of the night for Rashid who is one of the most difficult bowlers to face in these circumstances. Three singles and a leg-bye before that wicket forced Khushdil's hand and he lost his head trying to launch the ball into orbit. Tough ask for the new man Mohammad Nawaz.
That was always on the cards. Pakistan basically need at least one six an over. And with four balls having already passed without a boundary, Khushdil tries to force one off Rashid. He gets his body in a tangle and skies it for Brook who takes an easy catch. Looked the googly which wasn't picked. Five to go for England.
11th over: Pakistan 86-4 (Shan 31, Khushdil 27) So close to a wicket. Inches in it. Ali's final ball is heaved towards the leg side and Duckett positions himself under it But it just evades his grasp as it goes over his head for six. Otherwise a good over from Ali that goes for four singles and a leg-bye.
10th over: Pakistan 75-4 (Shan 24, Khushdil 24) Curran is back and he's bustling towards the wicket like an angry man late for the bus. He's sticking with the short stuff which is fine as long as he doesn't stray with his line. But he does and Khushdil swivels and pulls it for six fine of deep square. He closes out the over with a clever scoop that goes for four. 15 from that one three singles and a well-run two. 147 needed off 60. They couldn't, could they?
What's in a nickname?
"I heard Liam Dawson being called Dawsy on TMS: why are England so dreadful at coming up wirh interesting names… Belly, Colly, Stokesy; Rooty…"
That's from Tom v d Gucht.
"They could be so much more imaginative. Dawson could be called Creek after the 90's teem show! Or they called be more creative and call him Dorsey rather than Dawsy then that could be turned to Gerry Dorsey the real name of Englbert Humperdink. Imagine if they called him Englebert! Or even Humper or Dinky!! Now that's creative
"Wood shouldn't be Woody: he should be Buzz, or Mr Potatohead, Bullseye or another Toy Story character. Colly should be Wobbles and Belly should be Pork."
Look, as someone who was nicknamed 'Stan', because it rhymed with Dan, in university, I'm the last person to pass judgment over monikers.
9th over: Pakistan 60-4 (Shan 17, Khushdil 16) Quality batting from Shan, who is an opener by trade. He's not afraid to use his feet to Rashid and gets it over cover for four. Rashid then serves a juicy full toss and Shan gives it the business and cracks it for six over long leg. Two singles close out the over. That's more like it from Pakistan.
8th over: Pakistan 46-4 (Shan 4, Khushdil 15) Spin from both ends with the skipper Moeen Ali joining the party. Pakistan need to get a move on and Khushdil understands the brief, skipping down the track and lofted a swishing cover drive for six. Three singles before that a couple after means it's a productive over. But 11 ain't good enough. They need a lot more than that.
7th over: Pakistan 35-4 (Shan 2, Khushdil 6) Adil Rashid into the attack and what an opportunity for him to exert control on things. Not that Khushdil will let him have it all his own way. A well timed reverse takes four behind square to close out the over.
6th over: Pakistan 29-4 (Shan 1, Khushdil 1) That's the end of the powerplay and needless to say, England won that one. The required rate is north of 13 and four of the top five are out. A good start for Sam Curran who backs up his pace buddies with a wicket and just five runs.
Gremlins in the speed gun maybe douses that talk of Wood's record breaking speeds.
Pakistan are crumbling. A bowling change has Sam Curran join the action and though he's dispatched for four through midwicket, he follows it up with another shortish ball. He's met with a strange stroke by Iftikhar who flat bats it straight to the man at mid-off. Not a good shot and not a good scene for Pakistan. They're in deep trouble here. Perhaps they've already lost it?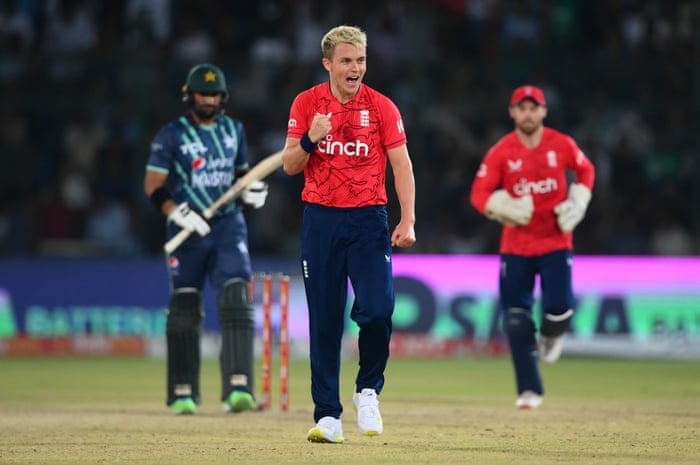 5th over: Pakistan 24-3 (Shan 1, Iftikhar 2) According to Ben Gardner, digital editor of Wisden, that could be the fastest over ever bowled by an English bowler. I believe it. That was searingly quick from Wood who is so strong through the crease, hammering the deck, rushing the batters. He takes a wicket and concedes just three runs. Superb.

Also, I do apologise for the inconsistency with the Pakistan names I'm using. I'll stick with the TV feed.

Two wickets in two balls! England all over their hosts here. Extra pace from Wood does the trick again. He rushes Ali who can only spoon an ungainly pull shot towards the leg side. Rashid at midwicket isn't the most mobile in the field but he does well to reach this with a tumble.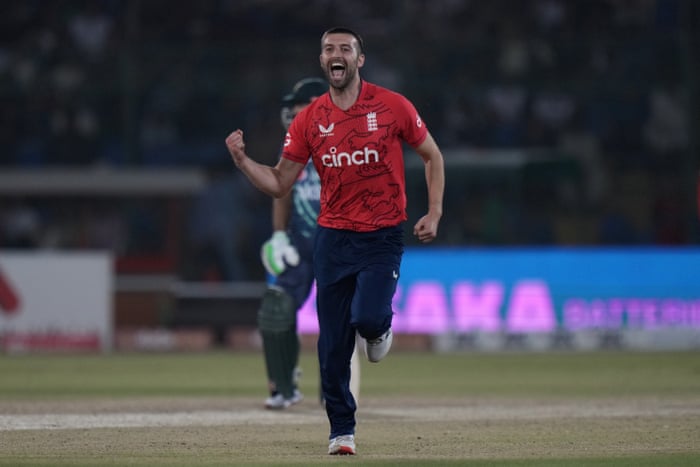 They scored an unbeaten 203 last night but now both of Pakistan's openers are back in the shed with a pair of 8s. Topley hits the top of leg as his skidder beats Rizwan for pace.

Just three runs off the over means Pakistan's chase is faltering.

4th over: Pakistan 21-2 (Ali 3, Masood 0)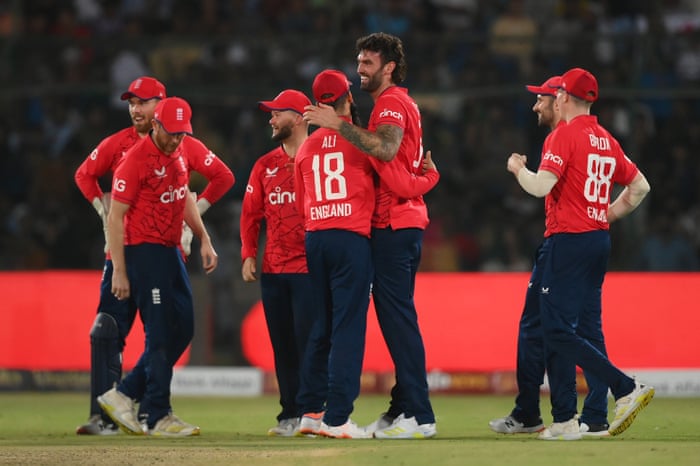 3rd over: Pakistan 18-1 (Rizwan 7, Ali 1) What a return for Wood. Honestly, having met him a few times (purely in a professional capacity) I can tell you that he's a splendid guy and has battled through a spate of injuries to get back on the field. Well he's successful with his fourth ball as he gets the big fish. Babar collected four two balls earlier by hitting through the line but the extra pace proved his undoing.

Mark Wood has a wicket on his return to international cricket, his first game for his country since March. It's short but it's fast and rushes Babar Azam and his cut shot takes the top edge and flies down to Topley at deep third. Massive wicket.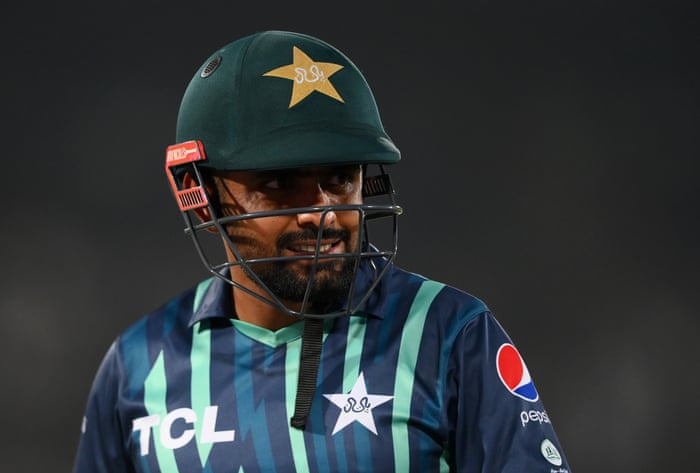 2nd over: Pakistan 12-0 (Rizwan 8, Babar 4) Almost an early wicket for Reece Topley who gets it full from his meaty left arm. It's off the second last ball and Babar tries to play across the line and gets a leading edge. It squirts towards extra cover and Malan can't quite get his hand around it as hi launches himself skyward. Could be a huge moment but a good start for Topley who concedes just five.

PS – I'll be using Babar instead of Azam from no one as that's what the Sky feed uses. I'm assuming they know more than me on this one.

1st over: Pakistan 7-0 (Rizwan 6, Azam 1) England start with spin and it's Liam Dawson with the new nut. He's skiddy and whippy but Rizwan gets a boundary with a cross-bat swipe towards midwicket. Three singles elsewhere means it's a win for the tourists. Remember, we're starting with a required rate of 11.

More love for that Harry Brook knock
Here we go. Pakistan need 222 to win. Much will depend on their openers. Can England nab one (or both) of them before they do any damage?

Here's a bit of correspondence on the IPL and it's impact on the world game:

"Hi Daniel. The impact of IPL on Indian Cricket is quite obvious. It has attracted loads of talent but produced a band of mercenaries loyal to no one and cricketers who are busy striking 'deals' during drinks breaks.

In between India's ouster from the Asia Cup and before the series against Australia Virat Kohli has leased another prime property in Mumbai for yet another restaurant.

We have sown the wind. We shall reap the whirlwind."

That's from JP Murty. Look, it's a chat that won't go away.

Just the 10 off the final over which included a cheeky ramp from Brook who was just sublime for his 81 from just 35 balls. Read that again. 81 from 35. Outrageous.

Duckett was no slouch as he posted 69 off 42. Their partnership of 139 off 72 balls means Pakistan will have to chase down their biggest ever target in T20 cricket.

A whopping 69 runs were scored off the last 30 deliveries as Pakistan's seamers were whacked around the ground. Debutant Will Jacks reached 40 as Usman Qadir claimed two expensive wicekts.

It's a lively deck and Pakistan will back themselves.

I'm off to grab a cuppa. Catch you soon.

Don't get up in my grill(e).

As John Starbuck rightly points out from the Pedantry Corner, "a grill is what you cook steaks on, while a grille is part of a helmet (not just cricket gear, but an arms & armour term too)."

Thanks John. Right you are.
19th over: England 211-3 (Duckett 64, Brook 76) Sensational. Stupendous. To steal a cliche I really am running out of superlatives. Brook starts this penultimate over by driving a full toss through the covers for four. He then clatters a six down the ground with the shot of the innings. A cute dab through to deep third gives him another four. What a knock this is. Just wonderful.

18th over: England 192-3 (Duckett 64, Brook 59) I'm pretty sure that's Duckett's first boundary not scored from a sweep. Either way, it's a crunching pull shot from a Hasnain half tracker and he cracks it for six in front of square. A couple to deep square and then a single towards that same area gets Brook on strike and a leg-bye gets Duckett on again. He rounds out the over with another pull (show off) and takes four. This partnership is now worth 110. To think these two might not even be in England's best XI.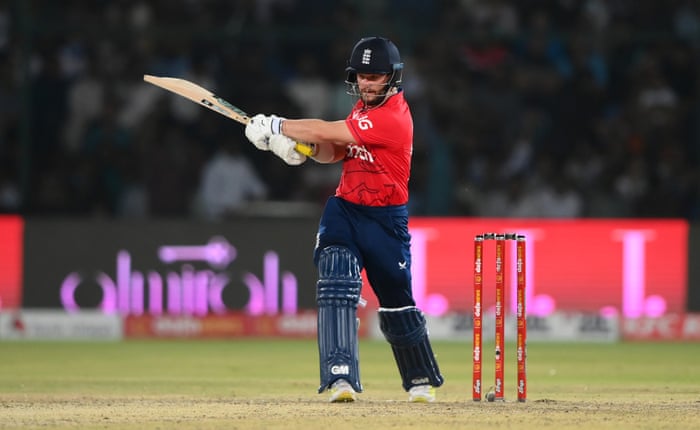 17th over: England 178-3 (Duckett 50, Brook 59) Duckett has his fifty with a nurdle towards the leg side as Rauf continues. After copping on in his grill, Brook launches the ball over cover for four. There are two wides which could have been four but for Rizwan's smart work behind the stumps.

There's a break in play because Harry Brook has caught a ball in his grill. I don't mean he's been hit by a bouncer. I mean the ball has ricocheted off his bat onto his pad and gone up towards his face where it's remained lodged in his grill. He's OK. All the players share a laugh. Here's where I say something about the game being played in the right spirit.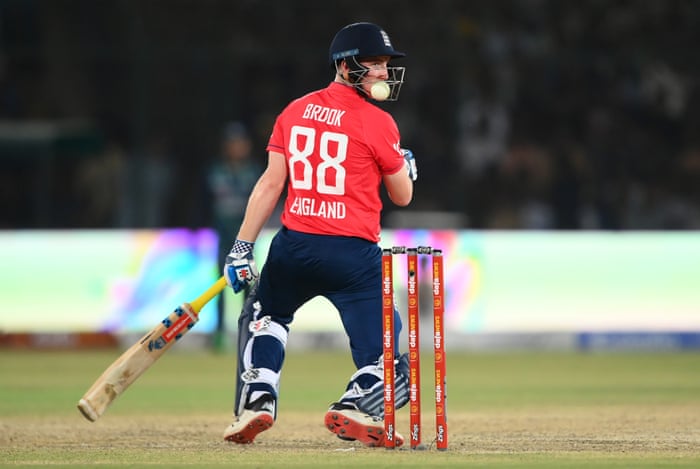 16th over: England 169-3 (Duckett 49, Brook 53) Brutal from Brook as he records his first half century for his country. He starts with a couple and then guides one to a vacant deep third boundary. Then he thwacks a mighty six 88m back from a back of a length ball. He brings up his milestone with a lovely drive through cover point as he opens the face. A wonderful contribution for a very talented young cricketer. Not a great return to the attack for Dahani who goes for 16.

15th over: 152-3 (Duckett 49, Brook 37) Just a normal cricket shot. Hasnain, back in the attack, follows Duckett who moves across his stumps towards the off side. The ball is very wide but Duckett fetches it and scoops it with a ballerina's pirouette and spoons it down to fine leg and takes four with one bounce. Weird, wonderful, whacky! I love it. Who'd be a bowler though? An expert steer from Brook takes another boundary wide of deep third. A half dab, half late cut. More conventional than his mate and equally effective.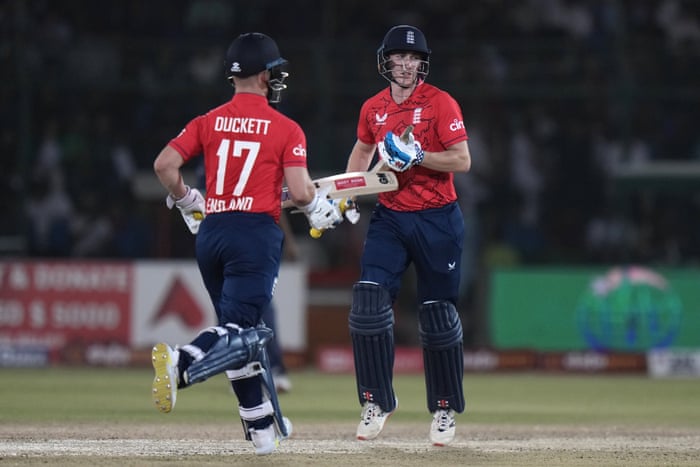 14th over: England 139-3 (Duckett 43, Brook 31) Tired of watching his spinners get swept for fun, Babar gets Rauf back in the action. His second ball, though, is sent sailing over long leg as Brook gets underneath the bouncer and whips it with disdain. Cracking ball striking. Five singles off the five remaining balls as this partnership climbs past 50. I think pace on the ball is the way to go on this strip. You might go for runs but it seems to be troubling the batters more. Will be interesting to see how Mark Wood goes.

I don't necessarily endorse this message, but it's a good line from Gary.