Welcome, once again, to the upside down. As the Premier League enters its third season of cut-and-shut schedules, relegated again to an insistent voice at the edge of larger things, it is tempting to wonder exactly when this state of flux is going to end; at what point the self-proclaimed world's most important league will ever find its way back from the dark place. Or, indeed, if things will ever quite be the same again.
It has, let's face it, been three years now. A competition that predicates its existence on hogging the foreground, on being not the B-flick or the short but the Premier, will once again find itself frazzled by some truly mind-boggling logistics.
In common with every other league, and indeed every other life, the last time the English top tier was able to contemplate an unclouded future was the pre-Covid lull of early 2020. The years since have brought a total shutdown, a summer half-life, a Super League insurrection, a winter of firebreak talk and cancelled dates and the enforced sale of one of its defining member clubs.
Needless to say this is all deeply off-brand. More than any other competition the Premier League voice is all about control and certainty, about days and weeks – Super Sundays, Monday Nights, a complete televisual white-out from September to May – dominated by that in-house tone of homogenised triumphalism. Like it or not, that voice has become a little wrung-out, the matinee idol presence a little stretched, bow tie askew, clinging to the balustrade.
As the league kicks into gear on Friday at Selhurst Park it is worth taking a moment to appreciate exactly how this thing is going to play out from here. Welcome to the season with a hole in it, 10 months during which the entire calendar must remain spinning in place, like a flywheel detached from its gears, while an enforced winter World Cup plays out. Stranger things have happened in the past three years of dissolution, but this is going to stretch everyone involved to their outer limits.
The first instalment, which we might call block 1, extends from 6 August to 17 September, a run of eight Premier League games and two Champions League rounds. After that we have two quick-fire international friendlies, the last warmups before Qatar.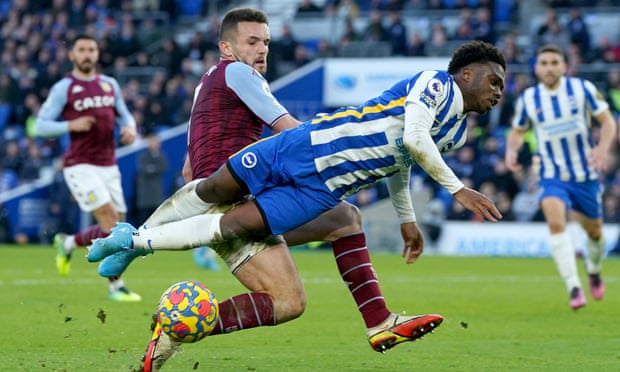 This is followed by block 3 from 1 October to 5 November, eight more league games and four more in the Champions League. Block 4 is the World Cup itself, a quick change to Arabian Standard Time and a maximum of seven matches between 21 November and 18 December. Then it's back to the northern winter and Block 5, three Premier League games in a week from Boxing Day to 2 January. At which point the season is free to emerge gasping and wheezing, clinging to the nearest rock, and wondering exactly what just happened.